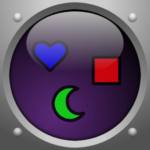 Mystic Clicker is live on the App Store and Google Play. So what is it, and why did I make it?
Mystic Clicker started out as a simple app to test implementing in-app purchases and ads. The idea was simple: tap to earn coins, spend coins to pull cards, use new cards to get more coins, rinse, repeat.
Then I developed a prototype and started playtesting it with my children and some friends. Soon the simple idea evolved into a surprisingly fun game despite being primarily a satire on the current state of free-to-play mobile games.